GAPP and ACRU welcome back Dr. Joan Ferrante and students from NKU with a new film from The Mourning the Creation of Racial Categories (MCRC) Project.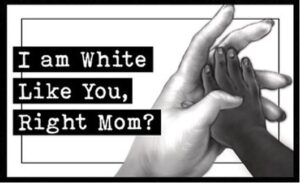 I AM WHITE LIKE YOU, RIGHT MOM?
In this film, a white-appearing mother must explain to her black-appearing daughter that "you're not white exactly." The conversation expands and reveals the story of why, in the U.S., parent and child can be labeled as different races and how race invades the family space. 
An MCRC Film   SCRIPTWRITERS: JOAN FERRANTE AND INDIA SADA
Tuesday, September 21, 7:00 PM
In-Person Location (masks recommended):
Anderson Hills United Methodist Church
7515 Forest Road, 45255
Registration required at https://rightmom.eventbrite.com
For more information about this program of GAPP, please email us at gapp.peace@gmail.com
Background:
The Mourning the Creation of Racial Categories (MCRC) Project engages the visual and performing arts —dance, music, theater, poetry, visualization — to tell the stories of how people in the United States were divided into a handful of unequally valued racial categories, such as Asian, Black, and White. This was not an easy process. It involved breaking ties with people who did not look like them including ties with ancestors, family members and friends. That categorical system required those in the White category to distance themselves from people in nonwhite categories.
The MCRC Project offers a language for talking about how our country, communities, and relationships have not yet recovered from a categorical system made in this way.